Appendix A - OpenLDAP: Multiple DITs
A single LDAP server can support one or more DIT(s).
Each DIT is entirely separate and has its own naming-context (or name space).
The following diagram illustrates this configuration: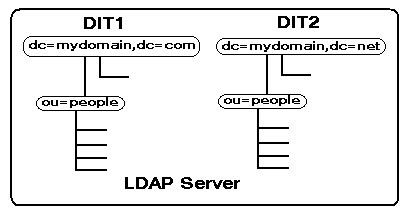 In the case of OpenLDAP each DIT and its suffix (a.k.a root or base) i.e. dc=mydomain.dc=com and dc=mydomain,dc=net is defined in a separate database entry in the slapd.conf file.
A configuration HOWTO is provided.
---

Problems, comments, suggestions, corrections (including broken links) or something to add? Please take the time from a busy life to 'mail us' (at top of screen), the webmaster (below) or info-support at zytrax. You will have a warm inner glow for the rest of the day.